Here's a couple of resources I've found over the past week that've been helpful:

Cycling '74 has recently added a gear forum to their user forums, for support of hardware externals for Max/MSP. I maintain a few externals for biometrics and health hardware, and plan on using these forums for support and further requests.
Note that there's also the openyou google groups that I'm using for general discussion of hardware/software, though Max/Pd discussion on health programming is more that welcome there too.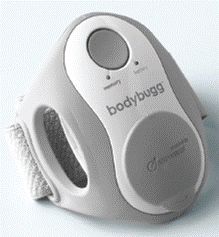 I also started doing some research on the BodyBugg today, just to see if any libraries exist for it yet. It looks like someone started a project to reverse engineering their data a couple of years ago, but it seems to have stalled. There's some python code that was posted to a mediafire account, which I've downloaded and put on a github repo at
https://github.com/qdot/libbodybugg
I don't currently have a bodybugg and I'm 3 deep in reverse engineering projects right now, so this is more a note for future reference, or for anyone else that's looking for bodybugg libraries. I'll be adding this to the libraries page once I get some time.